Time is the biggest cost of your business.
Don't waste it!
Get the right call to the right person!
• Auto-Direct Calls
• Dial-by-Name Directory
• Direct Call Forwards to Mobile Staff
• Screen Automated Sales Calls
Meet Jen
our automated receptionist
Jenn will direct your calls for you!
Jen works 24/7
Including: Nights | Weekends | Holidays
She can even change the options that callers have after business hours and during holidays.

incoming call
after hours
business hours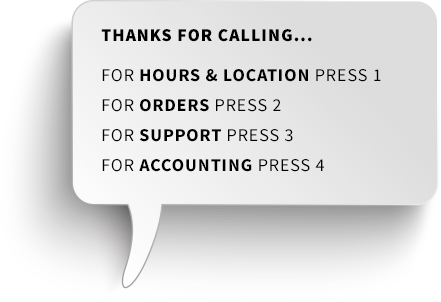 holiday
to see how jen can help your business
jen can also help you with:
Dial-By-Name Directory
Direct dial without the phone number
Reach individuals directly by entering the first 3 letters of their name
Staff without an office phone can receive calls on their mobile devices
Mobile Phone Forward
Reach anyone in the company even if they don't work at the office
Calls for departments (like Accounting) can include mobile phones
Include multiple mobile devices
Call Screening
No more automated sales calls
Get callers to the right people faster

Holiday Handling
Let callers know you will be out for the holidays
Communicate when you will be back and how to handle emergencies during holidays
Allow emergency calls to get emergency help